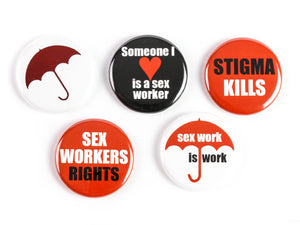 Sex worker or ally - these buttons are for you.
They are designed with the iconic and symbolic red umbrella and red colour front and centre.
Wear them to let those around you know that you stand for safe, protected and supported sex work.
-----Specs & Physical Details-----
Buttons measure 3.175cm (1.25") in diameter (from edge to edge). The designs are protected by a thin, but resilient mylar layer which makes them water resistant.
They can be readily cleaned with a damp cloth as needed. A portion of the proceeds from the sale of this set benefits Slut March Ottawa.