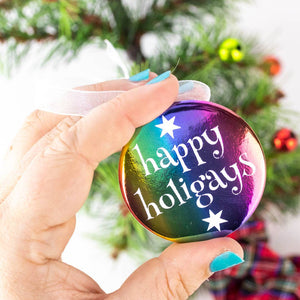 Frankly, this ornament is just fabulous.
This playful take on a holiday classic is the perfect way to make your tree stand out!
The ornament features the quote "happy holigays" and two stars with your choice of coloured foil.
The ornament measures 2.25″ in diameter.
The back features a glass mirror.
There is a ribbon for handing the ornament onto a tree.
The ornament will come in a small muslin bag making it the perfect little stocking stuffer for gifting.
Add this ornament around the neck of a bottle for the perfect gift when visiting friends and family this holiday.