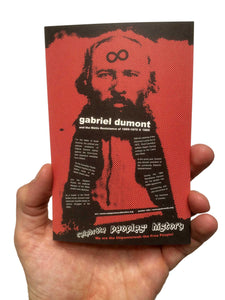 Postcards by JustSeeds.Org
For the Métis of North America, the political and spiritual resistance of Gabriel Dumont stands against the Euro-Canadian expansion emerging from Ottawa. As the Canadian Pacific Railway headed into the native lands of the Upper Great Lakes and the Western Prairie, the traditional lifeways of the Métis people were attacked. As a leader in the great buffalo hunts, Dumont used advanced guerrilla tactics in various struggles of the Métis. With the passing of the Dominion Lands Acts of 1872, Euro-Canadian settlers began moving en masse to the Canadian West. In the same year, Dumont was elected president of his community, Batoche, Saskatchewan. During the 1885 Resistance, Dumont led his people into battle against the encroaching policies and armies of the Dominion of Canada.
We are the Otipemisiwak—the Free People!
Printed at the worker-owned Stumptown Printers, Portland, OR.
A postcard version of poster #17 in the Celebrate People's History Series.