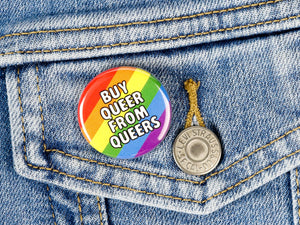 An important message on a rainbow background. Buttons measure 3.175cm (1.25") in diameter (from edge to edge).
25 cents from every button sold goes to The Ten Oaks Project.
They are an amazing queer charity that engages and connects children and youth from LGBTQ+ (lesbian, gay, bisexual, trans, two-spirit, queer) families, identities, and communities.
You can read more about them at their website: http://www.tenoaksproject.org/