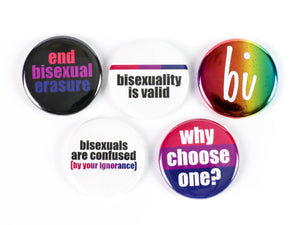 Celebrate your pride and love of folks of all genders! Display it on your coat, bag, fridge, bulletin board or anywhere else you can think to put it!
Choose from:
-Bisexuals are confused (by your ignorance)
-why choose one?
-Bisexuality is valid
-end bi erasure
-bi (in shiny, rainbow foil)*
*due to gradients in the rainbow foil, the item may not appear exactly as pictured (aka, might have more yellow, more red, etc)
-----Specs & Physical Details-----
They measure 3.175cm (1.25") in diameter (from edge to edge).