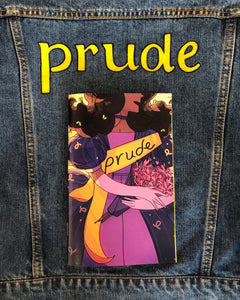 PRUDEmag Issue 1
Editors: Rea Sweets, Twoey Gray, Rabeea Syed
The inaugural issue of PRUDEmag features an interview with a sex worker on the asexual spectrum, poetry on prude-shaming in Christian communities, an anti-'virginity' opinion piece from a writer with vaginismus, confessional text messages navigating consent and disability, visual art critiquing the sex-positive movement, and much more!
---
ABOUT
PRUDEmag is a collaborative zine reclaiming the term "prude" as a celebration of our autonomy and boundary-setting, a refusal of sex-necessary feminism, and a liberation in which our "no" is respected.
We are a home for spinsters, rule-makers, asexuals, relationship anarchists, and all others resisting a sex necessary culture.

PRUDEmag does not defend an oppressive "purity culture", but rather defends prude / slut solidarity, acknowledging "prude" and "slut" as symptoms of the same systems.

Whether our prudism is related to our sexual orientation, our trauma, our disability, our spirituality, or none of the above, prude identity rejects a one-size-fits-all sexual empowerment.

FREE BY OUR YES. FREE BY OUR NO.