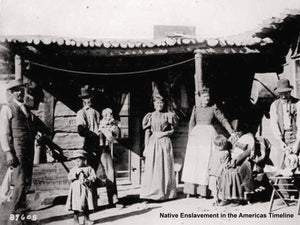 From the author:
Millions of Indigenous people lived in North America before European colonial powers invaded. Along with an insatiable desire for free labor to cut sugarcane and to mine gold in the Caribbean and later to mine silver in New Spain (Mexico), Europeans brought a system of slavery that significantly differed from the system of enslavement practiced by Native nations which both pre and postdated African slavery. European concepts of bondage transformed the way Native nations interacted with each other, resulted in the enslavement and death of millions of Indigenous people, and sparked widespread resistance by Native nations in North and South America against colonizing powers (primarily Portugal, France, Britain, the Netherlands and Spain), which is also the root of homo- and transphobia on this continent.

Nestled at the foot of Mount Blana, a mountain sacred to local tribes and one of four Sacred Mountains to the Diné (Navajo), Fort Garland was constructed by the U.S. Army in July 1858 to protect settlers from tribes whose land the settlers took. The fort was abandoned in 1883 after confining the tribes defending their land to reservations in Utah, Arizona and Colorado.
Wanting to engage the local community in difficult conversations about Native enslavement in the San Luis Valley Fort Garland Museum held a series of Zoom conversations encouraging participants to share family stories and photos of distant enslaved family members. One Latino participant shared how DNA testing is changing awareness of Native ancestry for many people in the valley. Inspired by an invitation from Fort Garland Museum to install work related to Native enslavement in the San Luis Valley I used this opportunity to begin learning more of this obscured history. As someone who has spent the past 34 years living and working with with the Diné on the Colorado Plateau in northern Arizona and as an African-American this history intrigues me. Many Diné friends shared stories with me over the years of family oral histories that involve distant relatives being captured in battle with other tribes and being held captive.  Learning of Native enslavement wasn't new information for me. However, the motivations, extent and consequences of it were.  This zine was created to help me remember relevant dates and moments in this abhorent history.